Is ProwiKŪ fabric made from simple nylon fibers?
ProwiKŪ fabrics are designed to transport moisture away from the body and enhance fabric drying rate thus, keeping you feeling cool, dry and more comfortable. ProwiKŪ fabrics deliver performance and comfort through the use of proprietary nylon fibers with unique engineered nano-channel helix sections and/or specially engineered two sided,
denier gradient fabrics made using ProwiKŪ qualifiable nylon or nylon yarns.
Is ProwiKŪ a treated nylon?
No, ProwiKŪ is not a treated nylon nor is it a simple nylon microfibre. The performance of ProwiKŪ is inherent in the fiber structure itself providing consistent performance wash after wash.
What's the difference between ProwiKŪ fabrics and other nylon fabrics?
ProwiKŪ fabrics are specially designed to provide not only superior moisture management, but also to enhance the wearer's comfort through a remarkably soft hand. The technically advanced nano-engineered fibers in ProwiKŪ fabrics provide enhanced breathability (called "air permeability" by the tech crowd) that differentiate ProwiKŪ from generic all other nylon fabrics, which use standard round fibers. Air permeability is one of our key performance tests that fabrics must pass before they can be sold as "ProwiKŪ". All of the benefits of ProwiKŪ fabrics are permanently built right into the fiber, requiring no chemical treatments like those other wicking fabrics.
Why are ProwiKŪ fabrics more comfortable?
Moisture management + breathability equals total comfort. Our exclusive 100% nylon based fabric is the softest and most comfortable microfiber ever developed.
Do garments made from ProwiKŪ require special care?
Most garments made with ProwiKŪ fabrics are machine washable and dryable; however, fabric softeners and chlorine bleach should not be used. Some garments may require special care because of the garment style, not the fabric. It is best to read the care label inside the garment. Energy Saving Tip! Because ProwiKŪ is so quick drying, you really don't need to use your dryer! Simple hang up the garment right out of the washer and in very short order the material will be dry and have that "pressed" look!
Can you silk screen print on ProwiKŪ?
To maintain the outstanding drying performance of ProwiKŪ fabrics, we recommend heat transfer printing over silk screening. Light coverage silk screen designs may be acceptable. Remember not to cover areas where sweat output is great if you are serious about maximum performance!
Can I dye my ProwiKŪ t-shirt?
No, ProwiKŪ is made from proprietary nylon fibers, and nylon requires special dye procedures. You can however sublimate the material for a high tech finish and maximum performance.
Can ProwiKŪ be worn year-round?
Yes. In cold weather, ProwiKŪ is a great base layer, especially during high aerobic activities. It's superior moisture management will keep the bone-chilling perspiration away from your skin and move it to the outer layers for evaporation. Remember, you can't stay warm if your body's wet!
What are the advantages of ProwiKŪ vs. cotton?
Besides its positive effect on maintaining body core temperature, ProwiKŪ is fast drying, breathable, and resists fading, shrinking and wrinkling.
What colors ProwiKŪ available in?
Red,. Black, Yellow, Royal Blue, Titanium, Carolina Blue, Navy, White, Green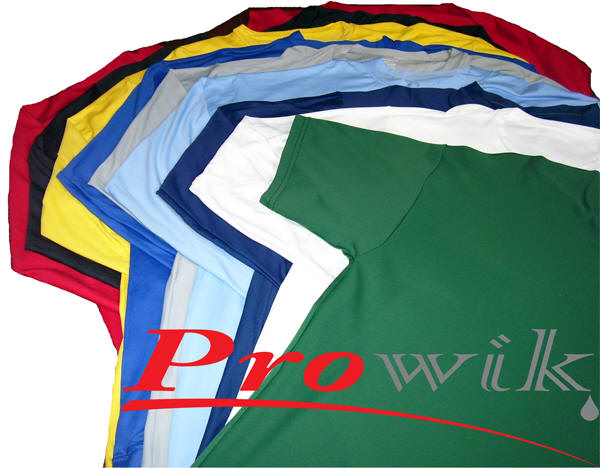 What sizes is ProwiKŪ available in?
We make the product in long and short sleeve for just about every size athlete on the planet from four feet ten inches tall and 70lb to seven feet four inches and 475 pounds and everything in between we have the most technical gear on the planet in a size to match you! CLICK HERE FOR THE ProwiKŪ SIZE CHART