Arid Core Technology (ACT)—Putting the "DRY" in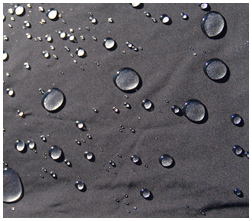 Like no other product on the market, the Arid Core Technology DRYSHIRT™ will keep you warmer and more comfortable than any other performance shirt available. Nano-technology allows sweat to migrate through the material while keeping out most precipitation on cold or wet days. This gear allows you to keep your mind off your gear and your head in the game. You simply must see this product in action to fully appreciate its properties. For a free demonstration log on to: www.DRYSHIRT.com/demo
Water repellent
Breathable

Assists in thermoregulation

Anti microbial

Comfortable loose fit

Crew neck for a modern look and ease of entry
The DryGuard™ shares all of the same properties that the DRYSHIRT™ provides but in a compression fit cut, no other product on the market can keep you as comfortable when the weather turns inclement than the DryGuard™. The flexible premium material is combined with state of the art six needle flat lock stitching for a no rash fit and the ultimate in performance fabric. Our advanced seven panel layout enhances performance for the serious athlete.
Arid Core Technology™ stands alone & above all of the rest
Through two decades of fabric testing in the largest and most complex laboratory in the world (The environment) Dry, Inc has developed a fabric technology so superior to anything else on the market you have to see it in person to believe how it performs. From the Arctic to the Southern Ocean to the tops of some of the highest mountains in the world and right in our own stadiums and fields, the DRSYHIRT™ has been tested against other "technical apparel" and is so far superior that we can't even suggest a comparative product on the market today.
From professional football and lacrosse players to baseball and track, if the weather is getting ugly then there is one product you need to be wearing because as one of the Players on the Pittsburg Steelers said "It kept my mind off my gear and my head in the game".
Our advanced carbon impregnation system allows the Arid Core Technology to remain water repellent while allowing sweat to migrate through. You will burn less energy and perform better than with any other fabric in the world.
ACT FAQs

To maintain exacting standards we manufacture both the material and the finished garment here in the United States.


The material will refrain from melting to temperatures up to 360'F.


The fabric is not coated with anything, rather it is impregnated at the nano level. This system allows the properties to last and last.