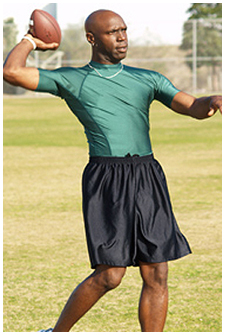 Performance is Our Business

When it comes to performance our gear speaks for itself. While many top athletes in professional football are being paid top dollar by the big names in athletic apparel to endorse their products, the athletes themselves are choosing to wear our Arid Core Technology products when it's game time. No other product on the market offers the unique performance advantage that the DRYSHIRT™ and DryGuard™ bring to the gridiron when the conditions turn cold or wet. We couldn't have said it any better:
"This shirt allows me to keep my mind off my gear and my head in the game".
From top players in the NFL to high profile college teams, high schools and right on down to your local Pop Warner and Friday Night Lights teams our gear is setting the new standard for what to wear when performance counts. Check out Cody Paul last season leading his team to a Super Bowl National Championship. Cody wears our gear and so should you and your team. Click the image to watch our gear in action
.
Our ProwiK Channel Matrix™ moisture management system is like nothing else on the market. The super soft feel of our proprietary serrated micro fibers are unique in the moisture management market. We combine all of these features with an anti static treatment that will keep the shirt from clinging to you and keep you drier and more comfortable than anything else on the market when conditions are hot and/or humid. Ideal for the gym or the field, the ProwiK's anti stain properties are just one more reason to select this product if you are looking for every advantage.